From Old Naples, to Aqualane Shores to Banita Springs, Bill Jones Roofing is up there.
We replace and fix thousands of roofs per year all over Naples and Bonita Springs. Everyone needs a good roof. Leaks and old roofs do not discriminate between rich and poor, if you need a roof, there are few options other than repair or replace. Typically if a roof is leaking and it is an old roof, replacement is the smart choice. Bill Jones Roofing is a group of expert roofers that do the job right the first time. We sometimes have to fix problem roofs from other roofing companies that cut corners or simply do not have the years of experience such as a roofing professional like Bill Jones. Many of our new roofs are for Bill Jones original customers from 20 – 30 years ago. When we do a new roof, our customers tend to remember Bill Jones Roofing. We are proud of the work we do and more so, we are proud of our reputation. If you ask our customers, they may say that they got a great roof. But more than likely they will say, Bill Jones offered a fare price and a quality product. If you can deliver a fare price and a quality product, you will be remembered. On the reverse side, if you deliver a less than perfect roof, you will also be remembered. We install a lot of new roofs to new customers in Naples but we are extra proud of the new roofs we do for past customers too.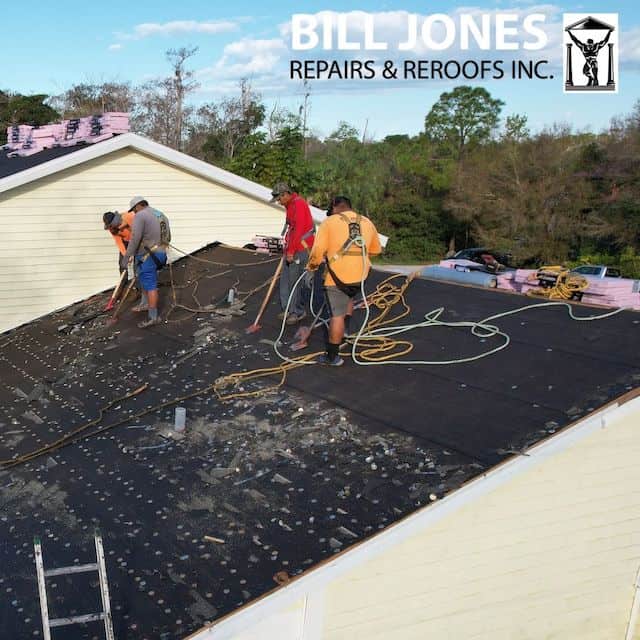 We know that your choice in a Naples Florida Roofing Company should not be based on price alone but Bill Jones Roofing encourages his customers to get another quote just to see where we compare with the competition. Chances are, you will find out that Bill Jones is extremely fair when he costs a roofing repair or a new Naples roof. The service and value are two main principles Bill instills in his employees and core business beliefs. You will not be making a mistake if you choose Bill Jones Roofing for your next roofing job. Like all our customers, you will become another happy and loyal roofing customer at Bill Jones Roofing.
Many people overlook the value in quality roofing materials when choosing a Naples roofing company. Bill Jones Roofing knows his name is on all the work he does and he knows you really can't cut corners in the materials we use. It is easy for many Naples roofing companies to hide inferior plywood, tar paper, nails, adhesives and flashing under the finished roof. Cutting corners opens the door to leaks and a bad reputation. Naples Florida is too small of a town to survive if you do shotty work. This is why Bill Jones Roofing buys the best galvanized nails, flashing and self-stick tar paver for the sub-roof. The shingles or roof tiles are name brand products by the best manufacturers in the roofing industry. The better the materials, the better the installation and that makes for a quality Bill Jones Roof!
We want our roofing customers to be happy with our services from the first phone call, during the pricing process, throughout the course of the roofing project, and most importantly, with their new roof or repaired roof. Our goal is to have our Naples roofing customers pull up in their driveway and be very satisfied and happy they have picked Bill Jones Roofing. Ultimately the reward we get is continued patronage and wonderful referrals. Naples Florida has amazing residences and we are proud to offer the best roof possible.