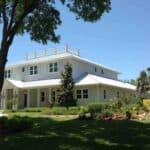 Naples Metal Roofing Contractors
Metal Roofing – What you need to know
Metal roofing is extremely durable, requires minimal maintenance, is eco-friendly and can last up to 60 years. Metal roofs are used for many industrial buildings, but have also become popular for homes, especially for homes that face various weather conditions such as hurricanes that frequent the area.
Metal roofs can be made from various materials including stainless steel, Galvalume steel, aluminum, copper and zinc. Each option has its pros and cons, and should be considered when deciding on a metal roof. Galvalume steel roofing comes in various colors, is least expensive, can be installed over an existing roof, and is recyclable. Aluminum roofing is lightweight, doesn't corrode, and is usually only a bit more expensive than Galvalume steel. Copper roofing is lightweight, energy-efficient, easy to solder, and provides a rich-looking feel to your home or building. Zinc roofing is eco-friendly, can "heal" itself from scratches and corrosion, is easy to maintain, and can last anywhere between 60 to 100 years.
Bill Jones Roofing provides excellent metal roofing services in Southwest Florida. From Naples Florida to Marco Island and beyond, we can do it all.
Call Bill Jones now about your Naples Tile Roof (239) 747-0884